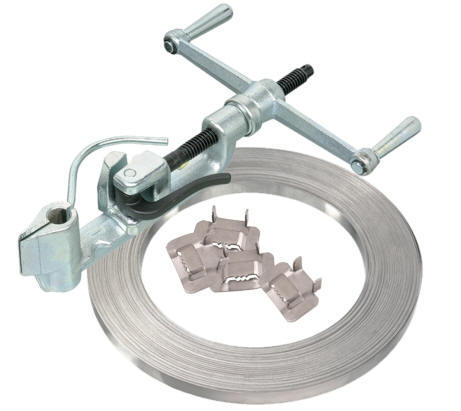 Stainless steel banding and strapping is widely used in manufacturing and construction to safely secure all kinds of materials in all sorts of situations. Steel has a high breaking strength and is resistant to corrosion which makes it highly versatile. Stainless steel banding is generally available in a range of three strengths, each designed for a particular use.
Grade 201
Fully annealed stainless steel in a basic 201 grade will secure everything from signs to pipes and cables. This is the metal used to fix direction signs onto poles, hold crowd barriers together at large events and keep the reels of cable and hose used by utility companies tidy. It was created in the United States, and typically has lower nickel and higher manganese content than other stainless steel grades while still retaining the usual iron and chromium mix.
Stainless steel grade 201 strapping is also available in a selection of wider sizes, and is generally referred to as 'giant banding' in these widths.
Grade 304
The most common variety of stainless steel strapping, Grade 304 is a lightweight variety also used to make domestic stainless steel fixtures and fittings. In its banding form, it can be used for fixing signs to poles and banding lightweight covering or cables to pipes. It is also popular in ducting, air conditioning and fencing applications as well as being used for bundling items together.
This grade of stainless steel has a high tolerance of household cleaners, many organic and inorganic chemicals and most foodstuffs. It is not strong enough for use in any potentially corrosive location, however.
Grade 316
Recommended for use in corrosive environments, Grade 316 stainless steel banding has a high nickel content and added molybdenum. Designed for use underwater or in locations with a high chemical presence, it is often found in and deployed from cable laying ships and drilling platforms. It also has a use for holding coastline warning signs against the traditional stiff sea breezes, as well as being found in refrigerated environments.
No matter the width of the stainless steel strapping required, the user will also need special buckles, clips and tools to deal with each width. A company such as Reid Brothers UK has further information on their website, and the firm has also produced instruction videos to help potential customers make the most of their banding purchase.
Stainless steel banding and strapping is all around us and used in many everyday locations. Specialist companies can advise on whether it is suitable for any potential use, as well as providing the complete kit needed to install it; not just the stainless steel strapping but a compatible tool and a selection of suitable clips to allow everyone from the complete beginner to the expert with limited space to store kit during assembly.